Product description
Focusable. The majority of prismatic scopes on the market come with a pre-set distance to which the scopes are focused. With the distance fixed to a certain range, targets placed at other distances will be, to some degree, out of focus, and may also cause some parallax errors when aiming. The IMMO 5x30 can focus down to 6 metres, and will be observed in razor sharp detail, regardless of the distance to the target.
Focusable from 6 metres to infinity
Medium eye relief. The fact that many rifles have a degree of recoil that does not require 90 or 100mm eye relief has long been overlooked, and many rifles are totally recoilless. Providing long eye relief comes at the cost of punishing optical parameters, which are sometimes critical for riflescope performance. We found that 45mm eye relief provides more than enough safety and comfort. By reducing the size of the eye relief, we were able to increase the field of view nearly twice over!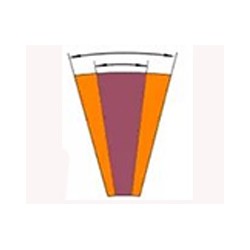 Twice standard field of view
ED glass and multi coated lenses. Multicoating is nearly a standard feature on all modern optical instruments, including budget lines. But ED glass is predominantly found in more upper range, expensive models. Our scopes have ED (Extra-low Dispersion) optical elements to reduce chromatic aberration. This eliminates distractive colour fringe along the edges of objects in the image.
All interacting mechanical parts are made by CNC to guarantee precision and reliability.
Illuminated reticules with electronic brightness control.
Mildot classic / Mildot Rapid Reticule
The perfect day scope for combining with front attachments. It's compact size allows for plenty of space on the rifle rail to mount various thermal or night vision attachments. This removes the biggest problem associated with front attachments – mounting to a day scope. Due to focusable optics and a wide field of view, it can get the best performance out of front attachments.
Variety of mounting options with a 34mm diameter body.

Shockproof, Nitrogen filled and waterproof.
Specifications
Magnification x5
Objective Lens diameter 30mm
Eye Relief 45mm / 1,77"
Tube size 34mm
Field of View 37ft@100yds / 12m@100m
Minimum focusing 6m
Click Value (Mill/MOA / cm@100m) 0.1/0.338/1
Clicks per rotation 50
Travel per rotation (Mill/MOA) 5/15
Max elevation adjustment (Mill/MOA) 28/33
Max windage adjustment (Mill/MOA) 28/83
Weight (without mounts) 11.8oz / 336g
Weight (with MOA adj. mounts) 15.8oz /450g
Waterproof and nitrogen filled